DraftKings Weekly Guide May 9-16: Top Stack, Great Bargains, and More
Posted on
May 10, 2016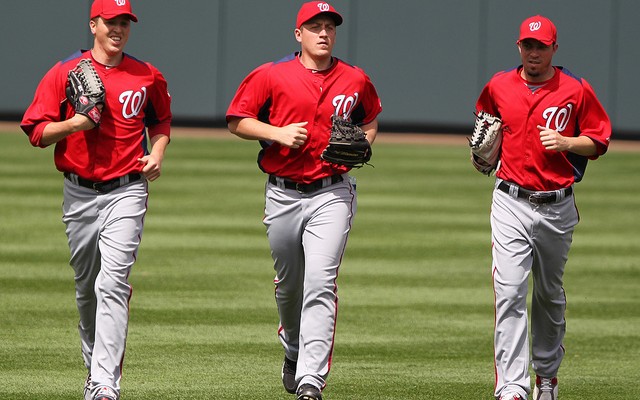 With daily fantasy baseball season finally here, DFS players wanting to use FanDuel and DraftKings MLB lineup optimizer everyday need quality information to get an edge. Knowing which players perform well against a lefty pitcher, or on a home stand, or in a pitcher's park, is critical to making quality daily fantasy decisions.
Here at the RotoQL blog we have made it our mission to prepare our users with a DFS MLB lineup advice for the start of the season and beyond.  
DraftKings' Best MLB Team to Stack and Bargains: May 9-16
With the 2016 MLB season finally here, it's time to start preparing your lineups for Daily Fantasy Baseball. Today we're going to look at the top stack option, along with some great hitting and pitching match ups, and finally the crazy stat of the week.
Top Stacking Option: Washington Nationals
RF Bryce Harper, 2B Daniel Murphy, LF Jason Werth
The Nationals have been one of MLB's best teams in 2016. Their great pitching, along with their offense, has led the Nats to the top of the NL East. There's no question that Bryce Harper is, at the least, a top three player in all of Major League Baseball. While his average has dipped a bit recently, the left fielder is still off to a hot start in 2016. Through 28 games, Harper is hitting .274 with 10 HRs and 26 RBIs (both of which lead the Nationals by a good amount). Harper has racked up 20 BBs so far, double the amount of any other Washington player. The 23-year old is also tied with Anthony Rendon for most runs scored (19). Surprisingly, Harper has not been Washington's strongest hitter through the first month of the season. That honor belongs to former-Met Daniel Murphy. Murphy, who came into the spotlight after his power surge during last year's playoffs, has been stellar for the Nationals. He leads the team in batting average (.382), hits (39), doubles (10), and triples (2), and is top 10 throughout the league in the same categories. Murphy has been nothing short of amazing for Washington. While Werth has been struggling to get hits this season (.222 batting average through his first 26 games), it's hard to imagine his average stays so low for much longer. Werth is a career .271 hitter, and has only had one full season with an average under .268 in the last decade. He has shown some good signs at the plate as he already has six HRs and 17 RBIs. Werth is too talented to continue these early-season struggles. Look for him to get back on track this weekend as the Nats take on the Marlins at home
Great Hitting Bargain: LF Starling Marte, Pittsburgh Pirates
Starling Marte, fresh off his first Gold Glove Award, is off to a hot start at the plate. Marte is hitting .315 through the first 28 games of the season, with three HRs and 13 RBIs. His 35 hits are among the league's best, along with his seven stolen bases. Marte has plenty of protection around him in the Pirates lineup, with several players (Josh Harrison, Jordy Mercer, Francisco Cervelli, and Gregory Polanco) all batting above .300. While Marte is a very strong contact hitter, he is also a home run threat. In 2015, the left fielder hit a career-high 19 HRs, making it his third straight season with double digit HRs. Marte and the Pirates face off with the Reds this week, and should easily dominate Cincinnati's pitching.
Great Pitching Bargain: Steven Wright, Boston Red Sox
Steven Wright started a career-high nine games in 2015, finishing with an ERA of 4.09. Through the first month of the 2016 season, Wright has already started five games for the Red Sox, and has earned an ERA of 1.67. Wright has been amazing this season, not allowing more than two earned runs in less than six innings in any of his starts. Walks have been somewhat of an issue as the the right hander is averaging three BBs per start, but Wright has done a great job at stranding those runners on base. He has 31 strikeouts through his first 32.1 innings, and is on pace to shatter his previous career high of 52 strikeouts in 2015. Wright gets to face the Astros this weekend, and should continue his dominance over a weak Houston lineup.
Crazy Stat of the Week
Last week marked the 20th time in 24 seasons the Colorado Rockies have scored 17 or more runs in a game, but only the second time they have done it away from Denver (the other was 9/25/11 in Houston).
Get these players into your MLB daily fantasy lineups with RotoQL's Lineup Optimizer today.
Want to learn more about building an winning DFS strategy? Check out our RotoQL University videos with Saahil Sud fka Maxdalury.