FanDuel Weekly Guide May 15-22: Top Stack, Great Bargains, and More
Posted on
May 13, 2016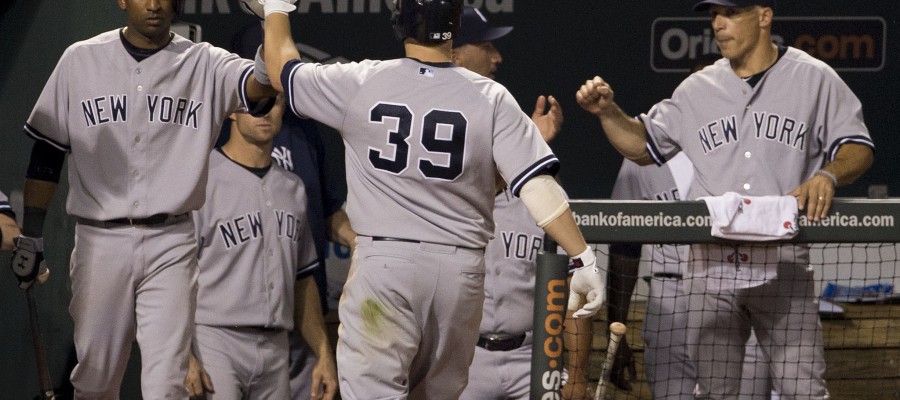 With daily fantasy baseball season finally here, DFS players wanting to use FanDuel and DraftKings MLB lineup optimizer everyday need quality information to get an edge. Knowing which players perform well against a lefty pitcher, or on a home stand, or in a pitcher's park, is critical to making quality daily fantasy decisions.
Here at the RotoQL blog we have made it our mission to prepare our users with a DFS MLB lineup advice for the start of the season and beyond.  
Best MLB Team to Stack and Best Hitting and Pitching Values – May 16-22
With the 2016 MLB season finally here, it's time to start preparing your lineups for Daily Fantasy Baseball. Today we're going to look at the top stack option, along with some great hitting and pitching match ups, and finally the crazy stat of the week.
Top Stacking Option: Chicago White Sox
RF Adam Eaton, 3B Todd Frazier, LF Melky Cabrera
The White Sox could possibly be the biggest surprise team of 2016. Their hot start has them sitting at the top of the American League Central with a comfortable lead over their division rivals. While a big reason for that has been the amazing job the starting pitching has done, credit has to be given to the starting lineup as well. Adam Eaton has done an amazing job as Chicago's lead off hitter with a batting average of .293. While he hasn't hit for much power this season (only one HR), Eaton's 14 HRs last year shows that the right fielder has the potential to hit the long ball. After a slow start to his career in Arizona, Eaton has looked great since joining the White Sox prior to the 2014 season. It helps when you have slugger Todd Frazier hitting a couple of batters away from you in the batting order. In his first season with the White Sox, Frazier has seen his batting average drop to a measly .222. While that number is obviously worrisome, his career batting average is .255, so it is fair to expect the third baseman to get that number up .020 or so points. Even with his average down, Frazier has been hitting the long ball at a crazy pace in 2016. Through 35 games, the 30-year old has already hit 11 HRs, good for third best in baseball. The third baseman's 31 RBIs is also second best in MLB. Pitchers have been unable to pitch around Frazier because hitting right behind him is Melky Cabrera. Cabrera leads the White Sox with a .308 batting average and 40 hits. Almost all of his hits have been singles, but Cabrera has been consistently getting on base all season. All three of these hitters should have a great week as they face off with the weak Astros at home before welcoming the struggling Royals to Houston.
Great Hitting Bargain: RF Stephen Piscotty, St. Louis Cardinals
Piscotty looked amazing in his 63 games with the Cardinals in 2015. Through 33 games this season, Piscotty is proving that last year was no fluke. The right fielder is hitting .323 with five HRs and 22 RBIs. Piscotty leads the Cardinals with 43 hits and is tied with Matt Carpenter for the team's lead in RBIs. His 22 runs scored is also second on the team behind Aledmys Diaz, who is also off to an incredible start. The 25-year old is this week's bargain because of his fantastic pitching matchups. The Cardinals will take on the Rockies and the Diamondbacks at home this week. In the series against the Rockies, Piscotty will face three starting pitchers with ERAs above 4.50 (Chris Rusin, Chad Bettis, and Jon Gray). While the pitchers on St. Louis have had more success this season, Patrick Corbin, Rubby De La Rosa, and Robbie Ray are not dominating pitchers. Expect Piscotty to keep his impressive season going this week.
Great Pitching Bargain: RHP Aaron Nola, Philadelphia Phillies
Nola has been a pleasant surprise for the Phillies this season. Through his first seven starts, the right hander is 2-2 with a 3.13 ERA and 49 strikeouts. That's an average of seven strikeouts per start. Prior to his start on May 8th against the Marlins, Nola had pitched 21 innings in his previous three starts, allowing only one run and eight hits. Those are incredible numbers for anyone, let alone a 22-year old pitching in his second season in the majors. This week, Nola gets a juicy matchup against the Atlanta Braves at home. The Braves currently sit at the very bottom of the NL East, incredibly far behind the rest of the pack. Nola will take advantage of this opportunity and dominate in front of his home crowd.
Crazy Stat of the Week
On May 11th, Max Scherzer became the fourth pitcher in MLB history to record 20 strikeouts in a nine-inning game (it was the fifth time it occurred as Roger Clemens did it twice). Brad Ausmus was on the losing side of three of those games (as a player in 1996 against Roger Clemens and in 1998 against Kerry Wood, and as a manager last week against Scherzer).
Get these players into your MLB daily fantasy lineups with RotoQL's MLB Lineup Optimizer today.
Want to learn more about building an winning DFS strategy? Check out our RotoQL University videos with Saahil Sud fka Maxdalury.