FanDuel Weekly Guide May 30- June 5: Best Stack, Great Bargains, and More
Posted on
June 1, 2016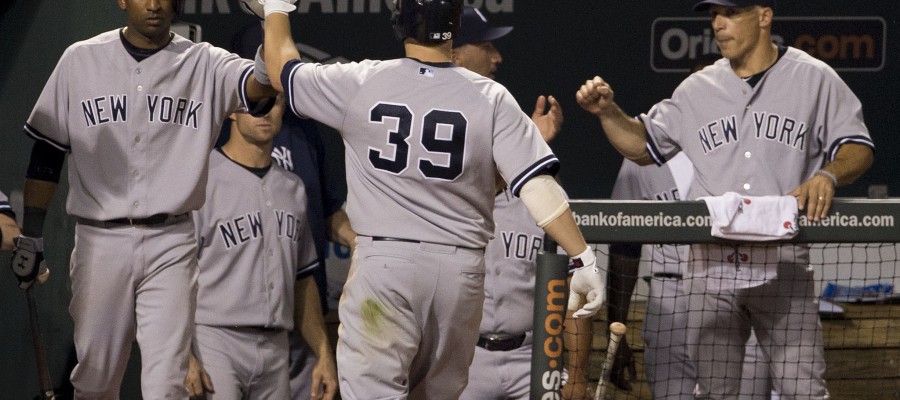 With daily fantasy baseball season finally here, DFS players wanting to use FanDuel and DraftKings MLB lineup optimizer everyday need quality information to get an edge. Knowing which players perform well against a lefty pitcher, or on a home stand, or in a pitcher's park, is critical to making quality daily fantasy decisions.
Here at the RotoQL blog we have made it our mission to prepare our users with a DFS MLB lineup advice for the start of the season and beyond.  
Best MLB Team to Stack and Best Hitting and Pitching Values – May 30- June 5
With the 2016 MLB season finally here, it's time to start preparing your lineups for Daily Fantasy Baseball. Today we're going to look at the top stack option, along with some great hitting and pitching match ups, and finally the crazy stat of the week.
Best Stacking Option: St. Louis Cardinals
SS Aledmys Diaz, RF Stephen Piscotty, C Yadier Molina
Aledmys Diaz has been a very pleasant surprise for the Cardinals in 2016. Through the first 44 games of his rookie season, Diaz is hitting an impressive .331, to go with six HRs and 24 RBIs. The rookie's 15 doubles leads St. Louis, while his 51 hits and 31 runs scored are second on the team. While Diaz has not been walking that much this season (8 walks), he has proven to be a great contact hitter with the ability to hit the long ball as well. The St. Louis shortstop currently leads all rookies in batting average, doubles, hits, and runs scored. The next Cardinal up in the stack is the only player having as strong of a season as Diaz. Stephen Piscotty burst onto the scene in 2015, appearing in 63 games and hitting .305 with seven HRs and 39 RBIs. Anyone that may have thought before this season that his performance in 2015 was merely a fluke has surely been convinced otherwise. Through 46 games in 2016, Piscotty is batting .328, including five HRs and 26 RBIs. The right fielder has 59 hits and 32 runs scored, just barely beating Diaz in both categories. Piscotty has also shown patience at the plate, racking up 18 walks for an on-base percentage of .401. While Diaz and Piscotty are both only 25-years old, the two are stepping up as offensive leaders in St. Louis. One of the veteran leaders of the Cardinals is also having himself a productive 2016. Yadier Molina, now in his 13th season with St. Louis, is batting .296 with one HR and 18 RBIs. While he isn't much of a power threat, Molina is still a very solid contact hitter. The 33-year old catcher still knows how to get on base, as his 20 walks has his on-base percentage at .380. The Cardinals begin this week on the road in Milwaukee before returning home for a series against the Giants. Diaz, Piscotty, and Molina are in a great position to have a very productive week, and should find their way into your daily fantasy lineups.
Great Hitting Bargain: 3B Travis Shaw, Boston Red Sox
Travis Shaw had a decent rookie campaign, batting .274 with 13 HRs and 36 RBIs. Through 46 games this season, Shaw has almost matched most of his offensive stats from last year. The 26-year old third baseman is hitting .306 including six HRs and 32 RBIs. Shaw's 16 doubles are more than he hit in 2015 (10 doubles), and his first two career triples came this year. Besides for HRs, Shaw is on pace to absolutely shatter every single one of his offensive stats from last season. This week, the Red Sox travel to Baltimore to take on the Orioles for four games, before heading home for a series against the Blue Jays. In Baltimore, the only pitcher to be hesitant about starting Shaw against is Kevin Gausman. Against the Blue Jays, Marco Estrada is the only dominating pitcher the Red Sox will face this week. These are the only two games you should even consider sitting Shaw for. Boston's third baseman is primed for a big week against their AL East foes.
Great Pitching Bargain: RHP Masahiro Tanaka, New York Yankees
Masahiro Tanaka has been one of the few consistent players for the Yankees in 2016. Through nine starts this season, Tanaka is 2-0 with a 3.24 ERA. In seven of those starts, the right hander has allowed two earned runs or fewer. Tanaka looked especially strong in his May 21st start against Oakland, where he allowed only one run on five hits in seven innings. While he only struck out four batters in that game, matching his season-low, the Yankee has 50 strikeouts on the season, and is averaging 5.5 per start. This week, Tanaka faces the Blue Jays on the road. Toronto is currently fifth in Major League Baseball with 409 strikeouts. With Toronto resting towards the bottom half of the league in team batting average and runs scored, Tanaka looks like a great bargain start this week.
Crazy Stat of the Week
The Atlanta Braves are currently 2-19 at home. Their 19 losses already matches the amount of home losses the 1998 New York Yankees had throughout the entire season.
Get these players into your MLB daily fantasy lineups with RotoQL today.
Want to learn more about building an winning DFS strategy? Check out our RotoQL University videos with Saahil Sud fka Maxdalury.