FanDuel Strategy: Best MLB Stacks – NL East
Posted on
March 31, 2016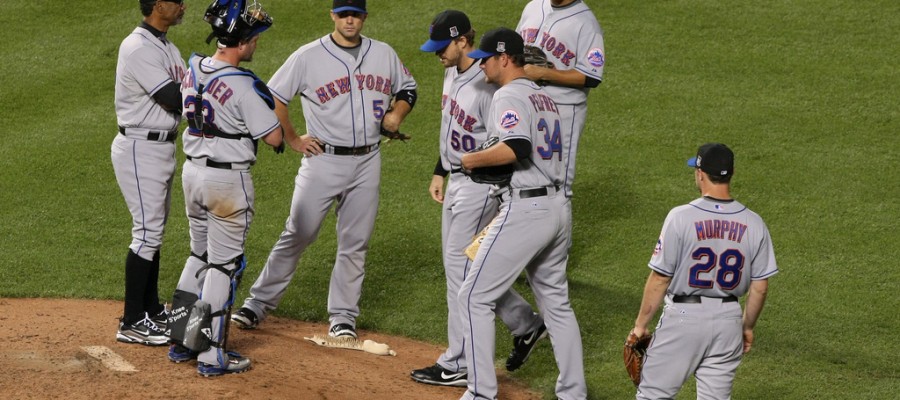 In using daily fantasy sports tools, the key to developing a bankroll is scaling winning strategies. Especially in baseball, finding optimal teams to add into lineups night after night serves as an essential part of MLB strategy.
That why we're previewing MLB teams to stack so you can have a leg up on the competition throughout the MLB DFS season. Then check out how to apply these strategies in our MLB lineup optimizer.
Consider These New York Mets for FanDuel Stacked Lineups
With MLB's opening day just a couple of weeks away, it is time to start thinking about your daily lineups on FanDuel. Today we're taking a look at one of the top stacking options of the NL East, featuring hitters from the reigning National League Champions, the New York Mets.
RF Curtis Granderson (Projected: 1st in lineup)
After a poor first season with the Mets, Granderson bounced back nicely in 2015. The outfielder finished 2015 hitting .259 with 26 HRs and 70 RBIs. Granderson added 98 runs scored and 91 BBs to his season's stats as well. The veteran found some success hitting out of the leadoff spot in the Mets lineup, which is exactly where he will hit in 2016. With Wright and Cespedes following him in the lineup, Granderson should see better pitches from opposing pitchers. Expect another season of strong offensive production from the veteran outfielder.
3B David Wright (Projected: 2nd in lineup)
Wright missed most of 2015 after being diagnosed with spinal stenosis, but still managed to hit .289 with 5 HRs and 17 RBIs in only 38 games. After a full offseason of preparation, Wright and the Mets have created a plan to manage the third baseman's back injury. Barring any setbacks or other injuries, Wright should be able to play in about 120-130 games this season. Wright seems more determined than ever to come back from this injury and succeed in the MLB, and with the talent surrounding him in the Mets lineup, he's in a great position to accomplish that goal.
CF Yoenis Cespedes (Projected: 3rd in lineup)
Cespedes played in only 57 games with the Mets during the regular season last year. In those 57 games, Cespedes hit 17 of his 35 HRs while batting .287 with 44 RBIs. Those are incredible power numbers. The center fielder took the Mets team from one of the lowest scoring clubs in all of baseball to one of the highest scoring teams once he was inserted into the lineup. Cespedes makes everyone else in the Mets' lineup a lot better, and his presence ensures that his teammates will get pitches to hit. As one of the best hitters in baseball, there's no questioning what Cespedes can do at the plate.
2B Neil Walker (Projected: 5th in lineup)
Walker is the new addition to the Mets lineup. He was brought in to replace former Met Daniel Murphy's offensive production, and shouldn't have much of an issue succeeding in doing that. Walker is a career .272 hitter, and is averaging a little over 18 HRs over the last three seasons. In 2014, in only 137 games, Walker hit 23 HRs and 76 RBIs. While the Pittsburgh teams Walker played on did consist of some talented lineups, it's hard to compare them to this 2016 Mets lineup. Walker will have great hitters both in front and behind him this season. That, combined with the fact that this season is a contract year for the second baseman, makes 2016 a potential breakout season for Walker.
Our daily fantasy baseball stacking preview is just one part of our DFS MLB lineup advice coverage for 2016.
Want to learn about building DFS stacking strategy from Saahil? Check out our RotoQL University videos on stacking MLB teams.