DraftKings Weekly Guide: Top Stack, Great Bargains, and More
Posted on
April 26, 2016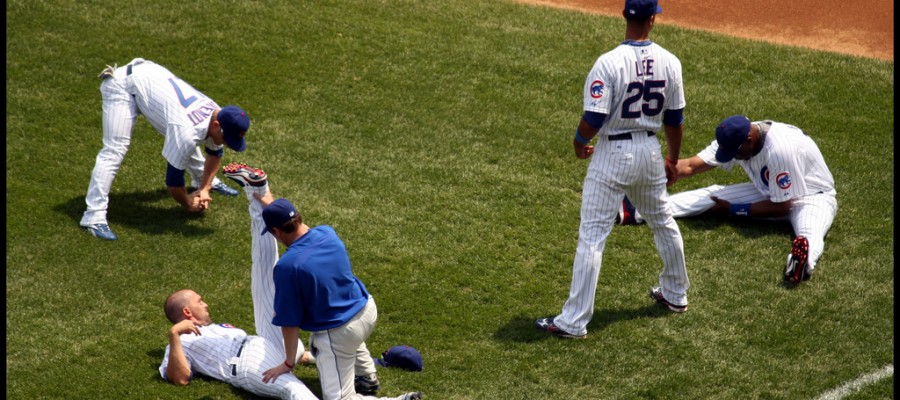 With daily fantasy baseball season finally here, DFS players wanting to use FanDuel and DraftKings lineup optimizer everyday need quality information to get an edge. Knowing which players perform well against a lefty pitcher, or on a home stand, or in a pitcher's park, is critical to making quality daily fantasy decisions.
Here at the RotoQL blog we have made it our mission to prepare our users with a DFS MLB lineup advice for the start of the season and beyond.
DraftKings' Best MLB Team to Stack and Bargain Values: April 25-May 1
With the 2016 MLB season finally here, it's time to start preparing your lineups for Daily Fantasy Baseball. Today we're going to look at the top stack option, along with some great hitting and pitching match ups, and finally the crazy stat of the week.
Top Stacking Option: Chicago Cubs
CF Dexter Fowler, 3B Kris Bryant, 1B Anthony Rizzo
Heading into 2016, many considered the Chicago Cubs to be the favorites to win the World Series. Through the first few weeks of the season, the Cubs are proving those people right. Chicago is getting it done at the plate and on the mound, as seen by the amazing all-around performance during Jake Arrieta's no-hitter, when the Cubs won 16-0. The Cubs' success starts with the leadoff hitter, Dexter Fowler. Fowler is hitting an impressive .393 to start the season, to go with three HRs and 11 RBIs. The center fielder is finding success against both left and right handed pitching, and is showing no signs of slowing down. Next up is third baseman Kris Bryant. Although he struggled to start the season, Bryant has stepped his game up over the last week, highlighted by his 4-6 outing with two HRs and 6 RBIs Thursday night. The reigning NL Rookie of the Year is starting to find his groove, which means trouble for opposing pitchers.
While he has struggled mightily so far in 2016, do not give up on Anthony Rizzo yet. His .186 batting average is quite frightening, but Rizzo has shown some signs of improvement recently. After going 0 for 3 in three straight games from April 17th-19th, the first baseman was able to produce the next to games. Between April 20th's game against St. Louis and April 21st's game against Cincinnati, Rizzo was 3 for 10 with two HRs and 5 RBIs. Rizzo has shown he still has the power (five HRs in the first 16 games), and slowly but surely, the batting average will rise as well.
On Tuesday the Cubs welcome Milwaukee to Wrigley Field for a three game series, where they will face Jimmy Nelson, Taylor Jungmann, and Zach Davies. While Nelson has been solid for the Brewers, both Jungmann and Davies have really struggled in 2016. Look for the Cubs lineup to pound these pitchers at home.
Great Hitting Bargain: 3B Adrian Beltre
Adrian Beltre has been great through the first tenth of the season, batting .333 with three HRs and 12 RBIs. More impressively, Beltre has found success against both lefties and righties in 2016. That should not come as much of a surprise though, given that over the last three seasons, Beltre is hitting over .300 against left and right handed pitching. With his high level of offensive production, it's hard to believe that the veteran third basemen just turned 37 a couple of weeks ago. The reason he finds himself as a great bargain is because the Rangers will welcome the struggling Yankees to Arlington for a three game series beginning on Monday. The Yankees have Nathan Eovaldi, Luis Severino, and CC Sabathia scheduled to pitch, all of whom have struggled to find any consistency so far this season. Expect Beltre to have a big series against New York.
Great Pitching Bargain: RHP Joe Ross, Washington Nationals
Joe Ross made a great first impression in the MLB last year when he earned a 3.64 ERA in his first 76.2 innings in the league. Through his first 16.2 innings in 2016, Ross has been nothing short of superb. In his first two starts, Ross surrendered one run in 14.2 innings (he was removed in his third start after two innings due to a blister). As long as the blister does not force him to miss any time, it will be hard to not include Ross in your daily fantasy lineup. His next matchup is scheduled to be Tuesday, April 26th at home against Philadelphia. The Phillies have been the worst team in baseball in both runs scored and team batting average. If you are Ross, you can't ask for a better matchup than at home vs. the Phillies. Look for the 22-year old pitcher to keep his early-season success going against Philadelphia.
Crazy Stat of the Week
Thursday, April 21st marked the first time in MLB history that both incumbent Cy Young Award winners pitched and one gave up double digit hits while the other did not allow any hits. Jake Arrieta threw his second career no-hitter, completely dominating the Cincinnati Reds. Meanwhile Dallas Keuchel surrendered 13 hits and six runs while suffering the loss against the Texas Rangers.
Get these players into your MLB daily fantasy lineups with RotoQL's MLB Lineup Optimizer today.
Want to learn more about building an winning DFS strategy? Learn RotoQL University videos with Saahil Sud fka Maxdalury.