DraftKings Weekly Guide May 23-29: Top Stack, Great Bargains, and More
Posted on
May 22, 2016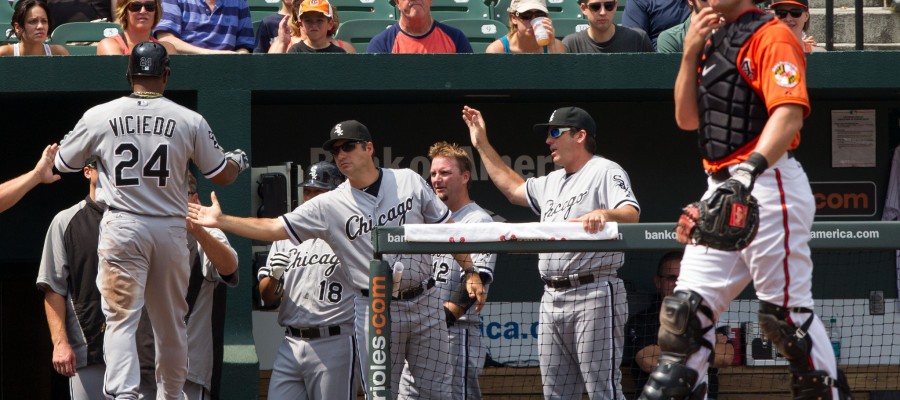 With daily fantasy baseball season finally here, DFS players wanting to use FanDuel and DraftKings MLB lineup optimizer everyday need quality information to get an edge. Knowing which players perform well against a lefty pitcher, or on a home stand, or in a pitcher's park, is critical to making quality daily fantasy decisions.
Here at the RotoQL blog we have made it our mission to prepare our users with a DFS MLB lineup advice for the start of the season and beyond.  
DraftKings' Best MLB Team to Stack and Bargains: May 23-29
With the 2016 MLB season finally here, it's time to start preparing your lineups for Daily Fantasy Baseball. Today we're going to look at the top stack option, along with some great hitting and pitching match ups, and finally the crazy stat of the week.
Top Stacking Option: Milwaukee Brewers
SS Jonathan Villar, LF Ryan Braun, C Jonathan Lucroy
Jonathan Villar has been a very pleasant surprise for the Brewers this season. After never playing more than 87 games in a season in three years with the Astros, Villar was given a chance to be the starting shortstop in Milwaukee. Through the first quarter of the season, the 25-year old has taken full advantage of this opportunity. Villar is batting .284 with one HR and 12 RBIs in 39 games this year. His 40 hits are only 15 shy of his previous career high set in 2014. In addition to being a great contact hitter, Villar has been a lot more patient at the plate in 2016. The shortstop has already racked up 23 walks, and needs only one more to tie his career high of 24 walks in 2013. Barring any injuries, Villar is on track to shatter almost all of his previous career highs, and has fully established himself as the starting shortstop in Milwaukee. Following Villar in the Brewers' lineup are the big bats. After seeing a slight dip in production the past few seasons, Ryan Braun once again looks like the outfielder that won five straight Silver Slugger Awards and a NL MVP. Braun is hitting a whopping .364 in 35 games this season, including seven HRs and 28 RBIs. The left fielder has done an amazing job of getting on base this season with an on-base percentage of .429. Villar and Braun have both been great at getting on base to set up scoring opportunities for guys like Jonathon Lucroy and Chris Carter. Lucroy, with six seasons under his belt, has already proven that he's one of the top catchers in Major League Baseball. This season has been no different. The 29-year old is batting .304 to go with six HRs and 16 RBIs. Lucroy is second on the team in runs scored (23) and second in hits (42). Villar, Braun, and Lucroy create a very formidable trio at the top of the Milwaukee lineup, and they will cause headaches for Atlanta and Cincinnati pitchers this week. With both of those teams struggling, these Milwaukee hitters are in for a big week.
Great Hitting Bargain: RF Gregory Polanco, Pittsburgh Pirates
Polanco has been superb for the Pirates through the first 40 games of the season. A career .258 hitter, Polanco is batting .308 in 2016, with five HRs and 22 RBIs. In one quarter of a season, the 24-year old already has more than half of his previous career high in HRs (9 HRs in 2015). The right fielder is also showing great patience at the plate with 25 walks, raising his on-base percentage to .405. Polanco's 16 doubles ties him for second most in all of baseball, trailing only Jose Altuve (17 doubles). 2016 is looking like it is going to be a breakout season for Polanco. This week the right fielder faces the Diamondbacks at home before traveling to Arlington to face the Rangers. The only matchup worth avoiding is against Cole Hamels over the weekend, but besides that one game, Polanco should be in your lineup this week.
Great Pitching Bargain: RHP Aaron Sanchez, Toronto Blue Jays
Aaron Sanchez hasn't had a ton of MLB experience through his first two+ seasons (177.1 innings total), but in the little time he has been in the majors, he's looked amazing. While most of his appearances in 2015 came from the bullpen, Sanchez is now getting a chance to be a full-time starter in Toronto. Through eight starts in 2016, Sanchez is 3-1 with a 3.29 ERA. The right hander has 45 strikeouts so far, and has already almost matched his career high of 61 strikeouts. Many people forget that Sanchez had to earn his spot in the rotation during Spring Training. After a quarter of the way through the season, it is clear that he is now a mainstay in the rotation. Sanchez has allowed one run or fewer in five of his eight starts this season. With his next scheduled start set for Yankee Stadium, don't hesitate to get Sanchez into your lineup.
Crazy Stat of the Week
Chris Sale of the Chicago White Sox became the first player to win his first nine starts of a season with an ERA below 2.00 since 1952
Get these players into your MLB daily fantasy lineups with RotoQL today.
Want to learn more about building an winning DFS strategy? Check out our RotoQL University videos with Saahil Sud fka Maxdalury.