DraftKings Weekly Guide: June 6-12: Top Stack, Great Bargains, and More
Posted on
June 7, 2016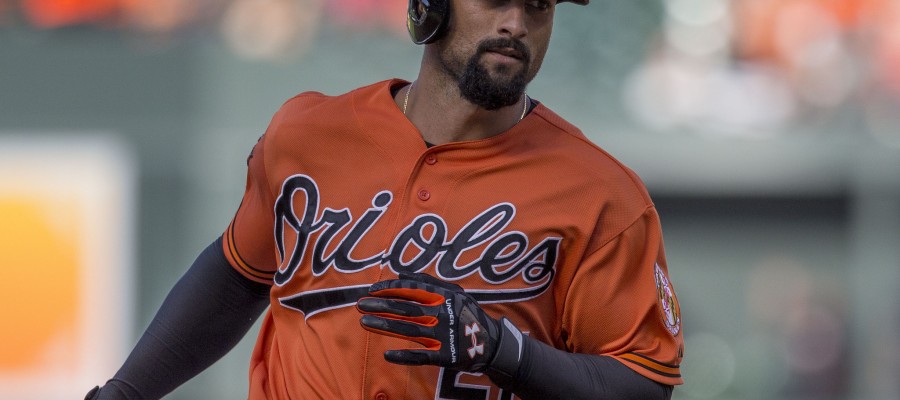 With daily fantasy baseball season finally here, DFS players wanting to use FanDuel and DraftKings MLB lineup optimizer everyday need quality information to get an edge. Knowing which players perform well against a lefty pitcher, or on a home stand, or in a pitcher's park, is critical to making quality daily fantasy decisions.
Here at the RotoQL blog we have made it our mission to prepare our users with a DFS MLB lineup advice for the start of the season and beyond.  
Best MLB Team to Stack and Best Hitting and Pitching Values – June 6-12
With the 2016 MLB season finally here, it's time to start preparing your lineups for Daily Fantasy Baseball. Today we're going to look at the top stack option, along with some great hitting and pitching match ups, and finally the crazy stat of the week.
Best Stacking Option: Baltimore Orioles
SS Manny Machado, RF Mark Trumbo, 2B Jonathan Schoop
Through the first 50+ games of the 2016 season, Manny Machado has looked like a MVP candidate. The shortstop is only 23 years old, and is batting .314 to go with 13 HRs and 31 RBIs. His 65 hits leads the team, while his 21 doubles are second in Major League Baseball, trailing only David Ortiz's 23 doubles. Machado is near the top of the league leaders in almost every offensive category, and has shown no signs of slowing down. He is on pace to finish well ahead of his previous career high of 35 HRs in a season. If he can keep his batting average up, Machado should have the strongest season of his young career in 2016. Machado is not the only player on Baltimore having a great season. Playing on the fourth team of his career, Mark Trumbo is quietly having himself a career-year. Trumbo is currently tied for fourth in baseball with 15 HRs, and has 39 RBIs and a .284 batting average to go along with the deep balls. As a career .253 hitter, one would think that Trumbo's average is due to take a fall. Yet after 200 ABs on the season, Trumbo has shown that he can hit for average as well as the home run. 24 of the right fielder's hits have been for extra-base hits, meaning the other 33 hits have been singles. In addition, after two seasons of showing very little patience at the plate, Trumbo has already racked up 15 walks. If he keeps this pace up, he will near his previous high of 54 walks on a season. Jonathan Schoop had a dismal first month of the season, batting a mere .218 in April. However since then, Schoop has pushed his average up to a respectable .267, and has hit eight HRs and 30 RBIs overall. The second baseman has been hitting towards the bottom of the Orioles' lineup all season, but with his recent success, combined with the struggles of many of the other Baltimore hitters, Schoop will most likely find his way to the slot behind Trumbo in the lineup. Regardless, these three Baltimore hitters have been finding great success this season. With a matchup against the struggling Kansas City Royals to start the week, these three combine to create a stack with the potential to put up significant numbers.
Great Hitting Bargain: 2B Neil Walker, New York Mets
Although former-Met Daniel Murphy leads the league in batting, it's hard for the Mets to be upset about letting him go with the production they've been getting out of their new second baseman Neil Walker. Walker has been hitting home runs at an astounding rate this season. His career high is 23 HRs in a season, which he hit in 2014 with the Pirates. Through 50 games in 2016, Walker already has 13 HRs. Even more impressive are his numbers as a right handed hitter. Heading into the season, Walker had six career HRs from the right side of the plate. This season, the second baseman has already hit five HRs as a righty. Walker's improvements against left handed pitching has been remarkable, and with a few matchups against lefties this week, Walker is looking to add to his right handed HR numbers. The Mets are on the road against Pittsburgh and Milwaukee this week. Besides for Jimmy Nelson and Junior Guerra of the Brewers, the rest of the opposing pitchers they will be facing have struggled in 2016. Walker is in for a big week as he looks to make up for some of the injuries the Mets are currently facing.
Great Pitching Bargain: RHP Aaron Sanchez, Toronto Blue Jays
In his first full season as a starting pitcher, Aaron Sanchez is performing quite well for the Blue Jays. Through 11 starts, Sanchez is 5-1 and has a 2.99 ERA to go with 64 strikeouts. The 64 strikeouts are already the most in a season for the 23-year old pitcher. While Sanchez (72.1 innings in 2016) is already near his previous career-high for innings pitched (92.1 in 2015), his arm has shown no indications of getting tired. The right hander has been on an absolute tear in the last 6 weeks. Sanchez has allowed more than three earned runs only once in his past seven starts, and has gone over six innings in each of those starts as well. Sanchez is proving himself to be the real deal this season, and with a matchup against the Tigers this week, is deserving of a spot in your lineups.
Crazy Stat of the Week
Rangers OF Nomar Mazara has been named AL Rookie of the Month for the second consecutive month after he hit .283 with 7 HRs and 17 RBIs in 27 games in May. Mazara is the first American League rookie to win the award in April and May since Rocco Baldelli did it in 2003 with Tampa Bay.
Get these players into your MLB daily fantasy lineups with RotoQL today.
Want to learn more about building an winning DFS strategy? Check out our RotoQL University videos with Saahil Sud fka Maxdalury.