DraftKings Weekly Guide for May 1-8: Top Stack, Great Bargains, and More
Posted on
April 30, 2016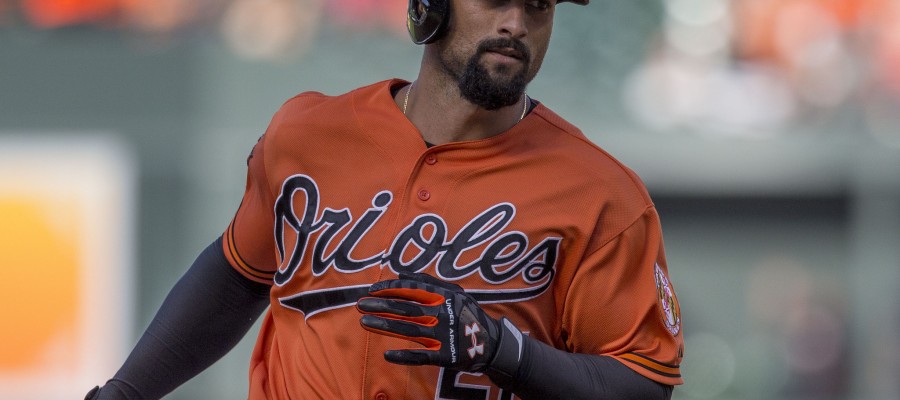 With daily fantasy baseball season in full swing, DFS players wanting to use FanDuel and DraftKings MLB lineup optimizer everyday need quality information to get an edge. Knowing which players perform well against a lefty pitcher, or on a home stand, or in a pitcher's park, is critical to making quality daily fantasy decisions.
Here at the RotoQL blog we have made it our mission to prepare our users with a DFS MLB lineup advice for the start of the season and beyond.  
DraftKings' Best MLB Team to Stack and Bargains: May 1-8
With the 2016 MLB season finally here, it's time to start preparing your lineups for Daily Fantasy Baseball. Today we're going to look at the top stack option, along with some great hitting and pitching match ups, and finally the crazy stat of the week.
Top Stack Option: Baltimore Orioles
OF Joey Rickard, 3B Manny Machado, OF Mark Trumbo
Heading into the season, most experts had the Baltimore Orioles finishing near or at the bottom of the American League East. We're now a month into the season and believe it or not, Baltimore is sitting at the top of the division. An important reason for that is the hitting of the Orioles. In his first year in the majors, Joey Rickard is playing quite well as Baltimore's leadoff hitter. The outfielder is batting .286 with two HRs and seven RBIs through the first 20 games of the season, and has done a solid job of getting on base for the big hitters behind him, such as superstar Manny Machado. Machado, coming off his second All-Star appearance in 2015, is playing at an amazing level thus far in 2016. The third baseman is hitting .325 to go along with six HRs and 11 RBIs. While he has struggled in his 17 ABs against left handed pitching (the only lefty Baltimore faces against the Yankees is the struggling CC Sabathia), his numbers against righties have been off the charts (.364 BA, six HRs, 10 RBIs in 66 ABs). Machado has a true breakout season last year, and is well on pace to match those numbers again in 2016.
Opposing pitchers have been unable to pitch around Machado because of the production Mark Trumbo has had through the first few weeks of the season. Trumbo, on his fourth team in six seasons, seems to have finally found a home in Baltimore. The right fielder has been great, batting a whopping .359, with five HRs and 17 RBIs. More impressive are his splits between righties and lefties. While his batting average is a crazy .383 in 60 ABs against right handed pitching, Trumbo has hit four of his five HRs and nine of his 17 RBIs against left handed pitching (while still hitting a solid .278). While his average is bound to drop throughout the season, expect Trumbo to put together the strongest all-around season of his career in 2016.
The Orioles will have the pleasure of welcoming the New York Yankees to Baltimore this week. In the first two games, the Yankees will send Luis Severino and CC Sabathia to the mound. Both of these pitchers have been awful in 2016, and the trend will continue against Baltimore. While Masahiro Tanaka will certainly be a tougher matchup, these Baltimore hitters are playing too well to be stopped. Don't be surprised to see Baltimore sweep New York in three easy games.
Great Hitting Bargain: LF Michael Conforto, New York Mets
Conforto has been nothing short of amazing in 2016. After starting the season in the sixth slot of the lineup, Conforto was moved to third. The 23-year old outfielder hasn't looked back, taking full advantage of the move up the batting order. Conforto is hitting .338 with three HRs and 13 RBIs through his first 19 games of the season. The left fielder leads the Mets in batting average and doubles (nine). Game after game, Conforto has come up with big hits for the Mets. The Seattle native looks like a seasoned veteran at the plate, despite not having a full season of MLB experience under his belt yet.
This week, the Mets will face Atlanta at home before traveling west to San Diego. In the seven games against those two teams this week, the opposing starting pitchers have a combined record of 5-15 in 2016. Conforto will take full advantage of these pitching matchups.
Great Pitching Bargain: Chris Tillman, Baltimore Orioles
If you take out his performance against the Rangers on April 14th (six earned runs on nine hits), Chris Tillman has been outstanding in 2016. Even with the one horrid start, Tillman is 2-1 with a 3.24 ERA. In his three other starts this season, the right hander has given up a combined three earned runs on 10 hits. In his most recent start, Tillman threw 6 2/3 innings, surrendering only two hits and zero earned runs while striking out nine.
Tillman has shown flashes of excellence at times throughout his career, and 2016 is starting to look like it could be the best season yet for the right hander. Tillman should have no trouble continuing his success this week as gets to face the New York Yankees at home.
Crazy Stat of the Week
Kenta Maeda is only the third pitcher since 1900 to throw at least 25 innings in his first four starts in the major leagues while not giving up more than one run.
Get these players into your MLB daily fantasy lineups with RotoQL's MLB Lineup Optimizer today.
Want to learn more about building an winning DFS strategy? Learn RotoQL University videos with Saahil Sud fka Maxdalury.