DFS NFL Research: 4 Undervalued Running Backs Heading Into the 2016 Season
Posted on
July 20, 2016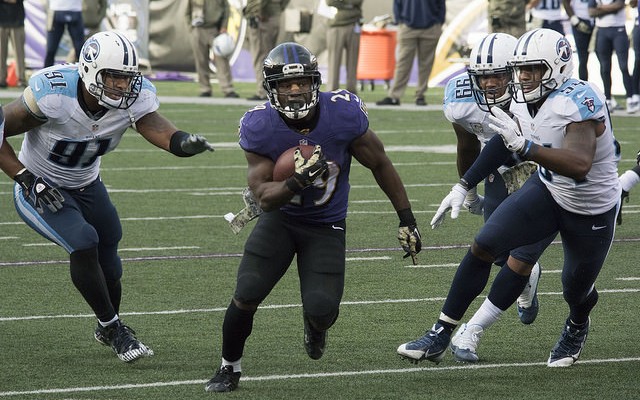 Here at RotoQL, we strive to offer you the best information possible, including our real-time daily fantasy NFL optimizer, lineups and DFS strategy videos to provide you with the greatest chance at succeeding in daily fantasy sports. That is why we have partnered with several of the top DFS NFL player projection sites in order to help you achieve this goal.
While the summertime is when baseball thrives, it is the dead-period for the NFL. Teams have finished their mini-camps, and training camp does not start until the end of July. But here at RotoQL, we believe it's never too early to start talking about football. Throughout the summer we will be previewing the upcoming NFL season and breaking down each position. We continue the conversation at running back, discussing which RBs are already being undervalued heading into the 2016 season.
Jonathan Stewart, Carolina Panthers
The Panthers were the best team in the regular season in 2015, and although they fell just short of their Super Bowl aspirations, last year was still a success. While Cam Newton is the clear offensive leader of the Panthers, Jonathan Stewart also plays a very important role in the team's offense. Stewart carried the ball 242 times last season for 989 yards, good for an average of 4.1 yards per carry, and scored six rushing touchdowns. He also added 16 receptions for 99 yards and a touchdown, and he did all of this in only 13 games. Stewart ended the season as the league's eighth leading rusher with his 989 yards, while his 76.1 rushing yards per game was good enough for fifth highest in the NFL.
The Panthers finished 2015 with the second-highest amount of rushing yards in the league (trailing only behind Buffalo), while Stewart was one of the top individual rushers. Yet heading into the 2016 season, Carolina's top rusher finds himself ranked 14th among running backs on most fantasy rankings. It doesn't add up. With teams more likely to prepare for Newton's draw plays, look for the reigning MVP to rely heavily on his lead running back.
Frank Gore, Indianapolis Colts
Frank Gore failed to hit the 1,000-yard mark for only the third time in his 11-year career last season. In his first season with Indianapolis, Gore ran for 967 yards and six touchdowns on 260 carries, averaging 3.7 yards per carry (the lowest of his career). The veteran running back also added 34 catches for 267 yards and a touchdown to his season stats. Even with over 1,200 yards of total offense in 2015, Gore does not seem to be garnering any sort of respect from NFL or fantasy football experts, as he finds himself ranked outside the top-30 running backs in some rankings.
While he certainly is older than the age you would like your starting running back to be, he showed last season that he still has some gas in the tank. Gore played on an Indianapolis team that was without their franchise quarterback for most of the season. Andrew Luck played in only seven games last year, while Matt Hasselbeck and Josh Freeman started the other nine. Gore managed to rush for 967 yards even though opposing teams were able to stack the box against him due to the poor play coming from the QB position. Let's also not forget that Gore finished as the league's ninth leading rusher in 2015. With a healthy Luck back at QB, along with two early draft picks spent on the o-line, look for Gore to build on his 2015 success and turn in a very strong season.
Latavius Murray, Oakland Raiders
Latavius Murray was one of the biggest surprises of the 2015 season. In his second season in the NFL, Murray rushed the ball 266 times for 1,066 yards (4.0 yards per carry) and six touchdowns, adding 41 receptions for 232 yards. Murray finished the season as the league's sixth leading rusher, and his 266 carries was third in the NFL, behind Adrian Peterson and Doug Martin. Murray proved to the Raiders that he can handle the responsibilities of being the team's workhorse at tailback, as he did not miss a game all season. The second-year back was also tied with Chris Ivory and Darren McFadden for fourth in rushes of 20+ yards.
With Derek Carr under center, Amari Cooper and Michael Crabtree at wide receiver, and Murray at running back, the Raiders have put together a very formidable core of position players. Most of Oakland's offseason moves, both through free agency and the draft, were on the defensive side of the ball, which does not directly help Murray. However with a much improved defense, the Raiders' offense can expect to have possession of the ball a lot more than they did last season. After finishing in at least the top-6 in most rushing categories, it's shocking to see Murray placed outside the top-20 in most fantasy rankings. While the number of carries he gets may go down a bit this year, expect Murray's yards per carry, and possibly even his total yards, to increase.
Dion Lewis, New England Patriots
Dion Lewis entered the 2015 season with 192 total yards of offense under his belt in two seasons with the Eagles (2011 and 2012). After missing two full seasons, Lewis signed with the Patriots and turned his career around. Although he only played in seven games before tearing his ACL, the 25-year old back looked very impressive in New England. Lewis carried the ball 49 times for 234 yards and two touchdowns, but more impressively, caught 36 passes for 388 yards and two touchdowns. Lewis isn't going to get 20 carries a game, but Bill Belichick showed that Lewis is an important cog in the Patriots offense, and thus they will feed him the ball. Yet entering the 2016 season, Lewis barely cracks the top-20 running backs in most fantasy rankings even though he racked up 622 total yards of offense along with four touchdowns in only 6+ games.
Lewis should be healthy and ready-to-go for Week One. With a full offseason to practice with the Patriots offense, and the amount of talent surrounding him in that New England offense, it's hard to believe that experts don't expect Lewis to have a great season. If he shows he can bounce back from the torn ACL and still be a serious pass-catching threat out of the backfield, don't be surprised to see Lewis as a top fantasy running back this season.
Use Pro Football Focus projections to create the best NFL lineups with RotoQL's real-time NFL lineup optimizer. Our premium subscription includes NFL lineup optimizer for DraftKings and FanDuel 50/50s and GPPs.