DFS MLB 1st Quarter Breakdown: Righty vs Righty and Lefty vs Lefty Shortstops
Posted on
June 20, 2016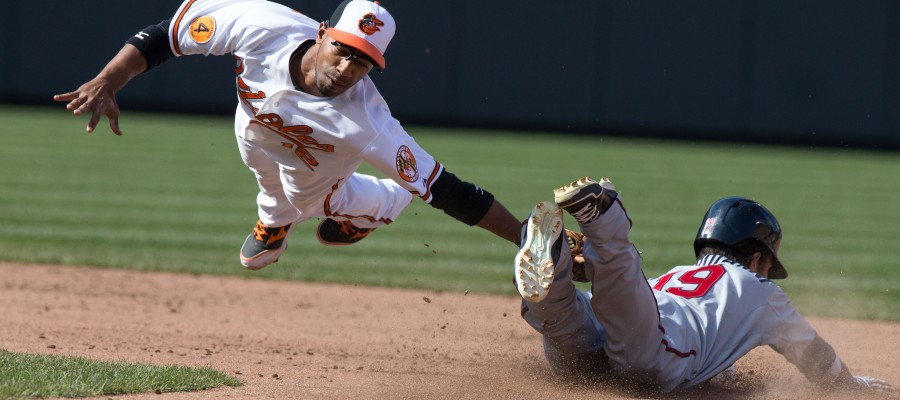 With daily fantasy baseball season finally here, DFS players wanting to use FanDuel and DraftKings MLB lineup optimizer everyday need quality information to get an edge. Knowing which players perform well against a lefty pitcher, or on a home stand, or in a pitcher's park, is critical to making quality daily fantasy decisions.
Here at the RotoQL blog we have made it our mission to prepare our users with a DFS MLB lineup advice for the start of the season and beyond.  
Consider These Righty vs. Righty Shortstops When Setting Your Lineups
With a quarter of the MLB season behind us, it's time to break down the best situational hitters for each position. Today we're going to explore the top right handed shortstops vs. right handed pitching and left handed shortstops vs. left handed pitching for the 2016 season.
Right Handed SS vs. Right Handed Pitching
Xander Bogaerts, Boston Red Sox
For those that thought Bogaerts would be a one-year wonder after his performance in 2015, it is safe to say you could not have been more wrong. A year after batting .320 with seven HRs and 81 RBIs, Bogaerts is still tearing up all of baseball. Through 63 games in 2016, the 23-year old is batting an amazing .357, and already has eight HRs and 45 RBIs. Bogaerts is on pace to shatter all of his records from last year, so it should come as no surprise that the shortstop is crushing right handed pitching. In 235 ABs, Bogaerts is batting .349 against righties, with six of his HRs and 38 of his RBIs. He leads all right handed shortstops with 82 hits against righties (Machado is second with 61 hits), along with leading in batting average, runs scored, doubles, and RBIs. Bogaerts is certainly in the discussion for the best shortstop in baseball.
Manny Machado, Baltimore Orioles
Machado is putting together yet another monster season in 2016, batting .302 with 17 HRs and 41 RBIs overall through 64 games. At only 23-years old, many people forget that 2016 marks Machado's fifth season in Major League Baseball. While that may seem hard to believe, it's not once you look at his dominance over right handed pitching. In 203 ABs against righties, Machado has a .300 BA along with 14 HRs and 34 RBIs. He trails only Bogaerts among right handed shortstops in almost every offensive category (besides for home runs in which he is the leader), and is well on his way to his third All-Star Game.
Aledmys Diaz, St. Louis Cardinals
Hidden behind the media frenzy following Bogaerts and Machado is Aledmys Diaz, the rookie shortstop of the Cardinals who is quietly having himself a superb rookie season. Overall, Diaz is hitting .312, with 8 HRs and 32 RBIs in 61 games this season. Those numbers alone would put Diaz in the top shortstops conversation. However it is his numbers against right handed pitching that really stand out. In 152 ABs against righties, Diaz's batting average is .329, trailing only Bogaerts. He has hit 6 of his 8 HRs and 25 of his 32 RBIs against righties as well, along with 14 doubles and 50 total hits. If not for the other two rookie shortstops that will be discussed later in this article, Diaz would have the National League Rookie of the Year Award in the bag.
Trevor Story, Colorado Rockies
Trevor Story is one of the reasons why Diaz hasn't walked away with the NL ROY award. Story had possibly the best start to a career in MLB history when he hit six HRs in his first four games. While the power has slowed down a bit, Story still has 17 HRs and 45 RBIs on the season to go with a .268 BA. His power surge at the beginning of the season was obviously jaw-dropping, but it's his numbers against righties that land him on this list. Through 183 ABs against right handed pitchers, Story is batting .273, and has hit 12 HRs and 37 RBIs. In addition, the 23-year old also has four triples (leading righty shortstops vs. righty pitching) and 12 doubles. Many will credit his HR power to the air in Colorado, but playing 81 games at Coors Field is one of the advantages of being on the Rockies.
Select These Lefty vs. Lefty Shortstops When Looking for an Edge
Didi Gregorius, New York Yankees
The talent pool of left handed shortstops is a lot smaller than that of the righties. However, Gregorius' numbers against lefty pitching makes him worthy of being on this list. Although he has not had many chances against southpaws, Gregorius has taken advantage of the few opportunities, smacking 20 hits in 56 ABs for a .357 BA, including 9 RBIs. Most of those hits have been singles, but Gregorius does have three doubles against lefties, which ties him for the most among left handed shortstops against lefty pitching. If he can continue to hit lefty pitchers, Gregorius will prove to be valuable for your daily fantasy lineups.
Corey Seager, Los Angeles Dodgers
Rounding out the list is the young Corey Seager. Seager burst onto the scene late in 2015, when he turned a September call-up into a .337 BA with 4 HRs and 17 RBIs in only 27 games. The 22-year old has carried that success over to 2016, where he's already hit 15 HRs and 36 RBIs in 66 games to go with a .275 BA. Even though his numbers against left handed pitching are not off-the-charts, they are good enough. Seager is hitting .265 against lefties in 68 ABs, with four HRs and 12 RBIs. Seager and Gregorius are the only two left handed shortstops with solid numbers against lefty pitching.
Get these players into your MLB daily fantasy lineups with RotoQL today.
Want to learn more about building an winning DFS strategy? Check out our RotoQL University videos with Saahil Sud fka Maxdalury.