DFS MLB 1st Quarter Breakdown: Righty vs. Righty and Lefty vs. Lefty Catchers
Posted on
June 3, 2016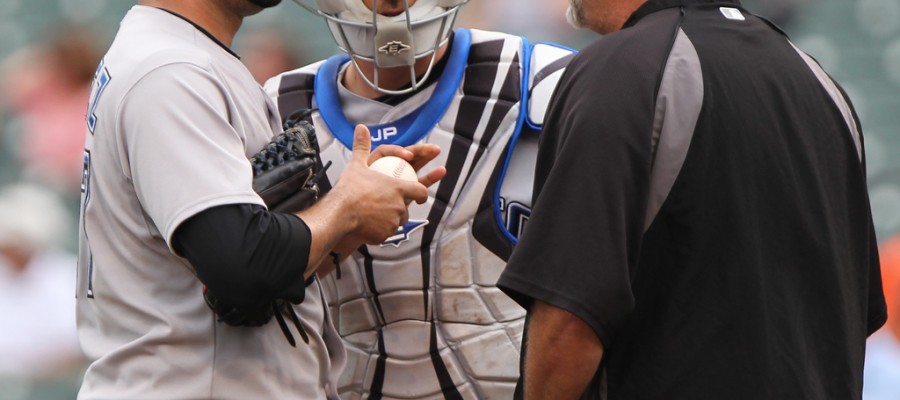 With daily fantasy baseball season finally here, DFS players wanting to use FanDuel and DraftKings MLB lineup optimizer everyday need quality information to get an edge. Knowing which players perform well against a lefty pitcher, or on a home stand, or in a pitcher's park, is critical to making quality daily fantasy decisions.
Here at the RotoQL blog we have made it our mission to prepare our users with a DFS MLB lineup advice for the start of the season and beyond.  
Consider These Hot Fantasy Catchers When Setting Your Lineups
With a quarter of the MLB season behind us, it's time to break down the best situational hitters for each position. Today we're going to explore the top right handed catchers vs. right handed pitching and left handed catchers vs. left handed pitching for the 2016 season.
Right Handed Catchers vs. Right Handed Pitching
Wilson Ramos, Washington Nationals
Ramos has been dominant in 2016, and is a big reason the Nationals have won as many games as they have. The catcher is batting .333 overall with 5 HRs and 21 RBIs. However it is his numbers against right handed pitching that are truly remarkable. Ramos is hitting .340 in 106 ABs against righties, and has hit four of his HRs and 18 of his RBIs against them. Ramos has the luxury of hitting in a lineup that consists of players like Bryce Harper and Daniel Murphy, giving opposing pitchers less opportunity to pitch around the 28-year old. Ramos is arguably the best overall hitting catcher in baseball right now.
Jonathan Lucroy, Milwaukee Brewers
If Ramos is the top hitting catcher in baseball, than Lucroy is a close second. Against right handed pitching this season, Lucroy has been absolutely dominating, with a batting average of .325 to go with five HRs and 16 RBIs in 117 ABs. His 38 hits against righties is second among right handed catchers, trailing only J.T. Realmuto, while his 19 runs scored is tops among all catchers against right handed pitching. Lucroy's five HRs is also tied for the most among right handed catchers vs. righty pitchers.
Salvador Perez, Kansas City Royals
So far this season, Kansas City has not lived up to the hype as reigning World Series Champions. However, Perez has done all he can to get the Royals back to October baseball. The 26-year old is hitting .283 overall, including seven HRs and 25 RBIs, on track to match his career averages. But his performance against righties is what lands him on this list. In 125 ABs against right handed pitching, Perez is batting .296, and has hit five HRs and 21 RBIs. Almost all of the damage Perez has done this season has been against righties, and with Mike Moustakas now lost for the season, the Royals will have to lean on Perez even more for the remainder of the season.
J.T. Realmuto, Miami Marlins
Realmuto is a career .268 hitter, yet in 2016, the 25-year old catcher is playing a lot better than expected. Realmuto is batting .301 overall and has 47 hits on the season. The Marlin has a mere two HRs, but with only 10 career HRs entering this season, power is not expected out of him. His numbers against right handed pitching is what is truly eye-opening. Realmuto has 41 of his hits off of righties (the most among catchers), good for a .331 batting average against right handed pitching. Through the first quarter of the 2016 MLB season, Realmuto has proven to be the best contact hitter among all catchers.
Left Handed Catchers vs. Left Handed Pitching
After the first 40+ games, Stephen Vogt currently has the highest batting average against southpaws among left handed catchers (.185). Until Vogt, Brian McCann, Miguel Montero, A.J. Pierzynski, or one of the other left handed catchers elevates their performance, all should be avoided when facing a left handed pitcher.
Next week we will break down the top first basemen through the first quarter of the season.
Get these players into your MLB daily fantasy lineups with RotoQL today.
Want to learn more about building an winning DFS strategy? Check out our RotoQL University videos with Saahil Sud fka Maxdalury.