DFS MLB Lineups: Righty OFs vs. Right Handed Pitching Options
Posted on
May 5, 2016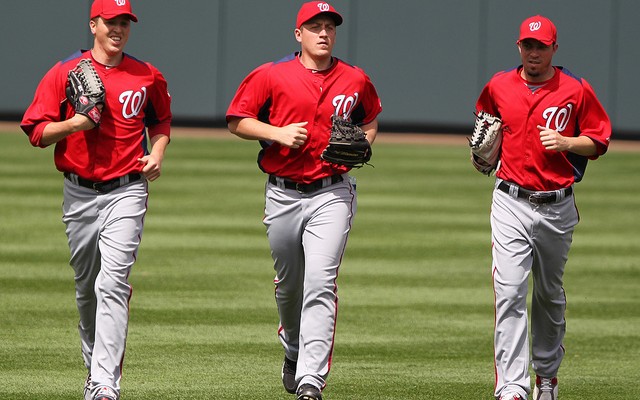 With daily fantasy baseball season inching closer, DFS players wanting to use FanDuel and DraftKings MLB lineup optimizer everyday need quality information to get an edge. Knowing which players perform well against a lefty pitcher, or on a home stand, or in a pitcher's park, is critical to making quality daily fantasy decisions.
Here at the RotoQL blog we have made it our mission to prepare our users with a DFS MLB lineups advice for the start of the season and beyond.  
Consider These Top Righty Outfielders vs. Right Handed Pitching Options
With the 2016 MLB season finally here, it's time to start preparing your lineups for Daily Fantasy Baseball. Today we're going to explore some of the top right handed hitting outfielders vs. right handed pitching options.
Yoenis Cespedes
After being traded to the Mets in July, Cespedes was absolutely brilliant. In only 57 games with New York, Cespedes hit 17 HRs, 44 RBIs, and had an average of .287. While those numbers are impressive, they are nothing compared to the outfielder's stats against right handed pitching. In 494 ABs against righties in 2015, Cespedes hit .310, and had 27 HRs and 80 RBIs. After not receiving the mega-contract he wanted in the offseason, Cespedes decided to stay with the Mets, who were happy to welcome him back. The Mets have a deep lineup this year, and with players such as Lucas Duda, Neil Walker, and Michael Conforto following Cespedes in the lineup, pitchers will find it difficult to pitch around the Cuban outfielder. Don't be surprised to see Cespedes in the NL MVP discussion at the end of 2016.
Mike Trout
At the young age of 24, it is sometimes hard to believe that Trout entered the league all the way back in 2011. After 4.5 seasons in the league, Trout has already proven that he is one of MLB's best players. The young outfielder broke the 40 HR mark in 2015, finishing the season with 41 HRs and 90 RBIs, to go with a .299 batting average. While Trout had very strong numbers against both right and left handed pitching, he saw most of his power come against righties. In 431 ABs against righties in 2015, Trout hit 31 HRs and 71 RBIs, while hitting .295. Trout is already a 4-time All-Star, a 4-time Silver Slugger Award winner, and the 2014 AL MVP. Barring an injury, Trout should once again find himself in the running for AL MVP, and should be in your daily fantasy lineup regardless of the pitching matchup.
J.D. Martinez
Martinez burst onto the scene in 2014 when he hit .315 with 23 HRs and 76 RBIs in only 123 games. Many thought the outfielder wouldn't be able to repeat that success again. Yet in 2015, Martinez hit 38 HRs and 102 RBIs, playing almost the entire season for the first time in his career. Looking at his statistics against righties in 2015, it's hard to argue that the 28-year old has some serious talent. In 479 ABs against right handed pitching, Martinez hit .286, including 28 HRs and 77 RBIs. His offensive production was good enough to earn Martinez his first All-Star appearance, along with his first Silver Slugger Award. While he may still be a relatively unknown for some people, don't shy away from inserting Martinez into your lineup when he's facing a righty.
Jose Bautista
For the last six seasons, Bautista has been one of Major League Baseball's most dangerous power hitters. In 2015, the outfielder hit a whopping 40 HRs and 114 RBIs to go with a .250 batting average, making his sixth straight All-Star appearance. While the average is obviously subpar, Bautista more than makes up for it with his constant threat of going deep. The 35-year old also saw almost all of his power come against right handed pitching in 2015. In his 439 ABs against righties, Bautista hit 35 of his 40 HRs and 94 of his 114 RBIs. Bautista also saw his average rise a few points to .255 against right handed pitching. Known for his home run celebrations, you can expect to see a lot of Bautista bat flips in 2016. Don't hesitate from putting Bautista into your daily fantasy lineup, especially against righty pitching.
Get these players into your MLB daily fantasy lineups with RotoQL's MLB Lineup Optimizer today.
Want to learn more about building an winning DFS strategy? Check out our RotoQL University videos with Saahil Sud fka Maxdalury.