MLB Strategy: Top Righty 1B vs. Right Handed Pitching Options
Posted on
April 29, 2016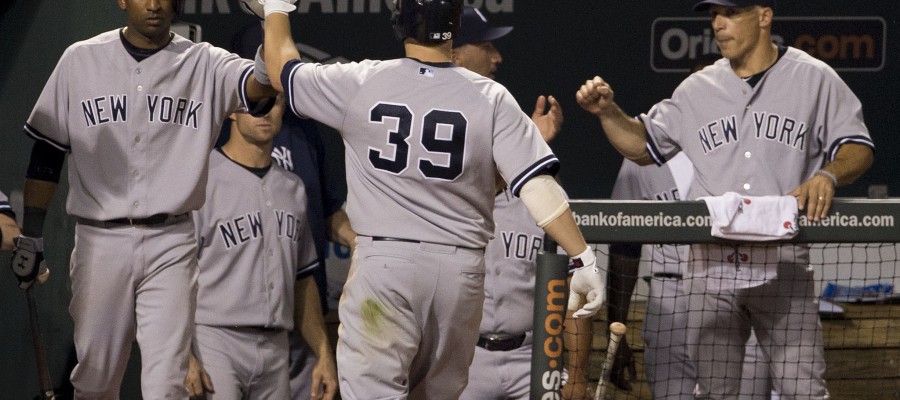 With daily fantasy baseball season inching closer, DFS players wanting to use FanDuel and DraftKings lineup optimizer everyday need quality information to get an edge. Knowing which players perform well against a lefty pitcher, or on a home stand, or in a pitcher's park, is critical to making quality daily fantasy decisions.
Here at the RotoQL blog we have made it our mission to prepare our users with a DFS MLB lineup advice for the start of the season and beyond.  
Consider These Top Righty First Basemen vs. Right Handed Pitching Options
With MLB's Opening Day just around the corner, it's time to start preparing your lineups for Daily Fantasy Baseball. Today we're going to explore a few of the top right handed hitting first basemen vs. right handed pitching options.
Miguel Cabrera
Cabrera's 2015 was cut short due to injury, but that didn't stop the first baseman from completely dominating right handed pitching. In 349 ABs against righties, Cabrera hit an astounding .344 with 13 HRs, 58 RBIs, and 120 total hits. And he didn't even play the entire season! Cabrera played in 159 games in 2014, and hit .317 with 19 HRs and 85 RBIs against righties. As long as he can remain healthy, you can expect similar numbers to his 2014 season in 2016. Cabrera is the top overall first basemen, and arguably the top overall hitter in Major League Baseball.
Paul Goldschmidt
Goldschmidt is finally receiving the attention he deserves as one of baseball's best hitters. The first baseman made his third straight All-Star Appearance in 2015, while also winning his second Silver Slugger Award. Against right handed pitching, Goldschmidt hit .309 with 25 HRs and 86 RBIs. He also led all right handed first basemen in runs scored (83) and BBs (97) against righties. Goldschmidt has gotten better and better after each season in the league, and 2016 could be the year the first baseman wins his first MVP award. Feel confident inserting Goldschmidt into your lineup, regardless of the pitching matchup.
Jose Abreu
Abreu has only been in the league for two seasons, but yet he already looks like a seasoned vet when he's up at the plate. The 29-year old was nothing short of amazing against right handed pitching in 2015. Abreu hit .308 with 27 HRs and 89 RBIs, while leading all first basemen with 145 hits against righties. Of all the top first basemen, Abreu has the biggest drop off in numbers between right and left handed pitching. While he dominated righties, he struggled mightily against lefties. Abreu remains one of the league's most dangerous sluggers, but before you place him in your lineup, check and make sure he's facing a righty that day.
Albert Pujols
Once considered the best hitter in baseball, Pujols has seen his numbers dip since he signed with the Angels. He hit a measly .244 in 2015, the lowest of his career. However the power is still there for the aging first baseman. Pujols hit 29 HRs and 74 RBIs against right handed pitching last season, while batting .253. He also led all right handed first basemen with 40 HRs. While he may not be the same player he used to be, Pujols is still a consistent home run threat. He's not going to hit for average, but his power numbers make up for it. His numbers against lefties are weak, so make sure to check his pitching matchup before placing him in your lineup.
Get these players into your MLB daily fantasy lineups with RotoQL's MLB Lineup Optimizer today.
Want to learn more about building an winning DFS strategy? Check out our RotoQL University videos with Saahil Sud fka Maxdalury.