DFS MLB All-Star Break Breakdown: Righty vs. Righty & Lefty vs. Lefty Catchers
Posted on
July 14, 2016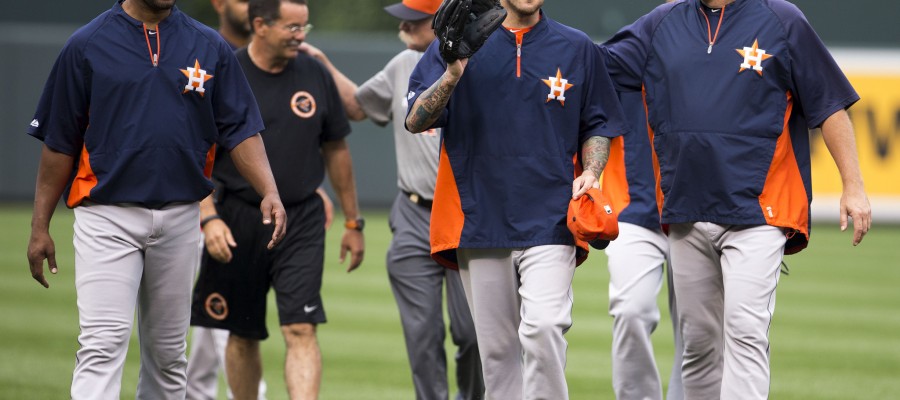 With daily fantasy baseball season finally here, DFS players wanting to use FanDuel and DraftKings MLB lineup optimizer everyday need quality information to get an edge. Knowing which players perform well against a lefty pitcher, or on a home stand, or in a pitcher's park, is critical to making quality daily fantasy decisions.
Here at the RotoQL blog we have made it our mission to prepare our users with a DFS MLB lineup advice for the start of the season and beyond.  
Consider These Catchers When Setting Your MLB Lineups
With half of the MLB season behind us, it's time to break down the best situational hitters for each position. Today we're going to explore the top right handed catchers vs. right handed pitching and left handed outfielders vs. left handed pitching for the 2016 season.
Right Handed Catchers vs. Right Handed Pitching
Wilson Ramos, Washington Nationals
Ramos is putting together an unbelievable first half of the season. In 72 games, the Washington catcher is batting .335 with 13 HRs and 46 RBIs, all of which are tops among catchers. While those numbers are clearly dominant, they don't compare to his numbers against right handed pitching. Through his first 193 ABs against righties, Ramos has an astounding .352 batting average, not to mention nine of his HRs, 32 of his RBIs, and 12 of his 16 doubles. Ramos has been unstoppable at the plate, which he has been rewarded for with his first All-Star Game appearance. He is by far the best overall catcher in baseball this season. Look for Ramos to emerge from the All-Star break focused and ready to improve on what is already the best season of his career.
J.T. Realmuto, Miami Marlins
Realmuto has been a very big surprise for the Marlins in 2016. Heading into 2016, the 25-year old's career best batting average was a measly .259 in 126 games in 2015. After his first 72 games of this season, Realmuto is batting .320, including five HRs and 25 RBIs. While he certainly is not a big power threat, Realmuto has proven to be a fantastic contact hitter for the Marlins, as his 87 hits currently leads all catchers in Major League Baseball. Realmuto's 16 doubles also place him tied for fourth among catchers. His overall numbers are great, but his numbers against right handed pitchers are amazing. Realmuto has had 218 ABs against righty pitching, and is hitting a whopping .358 in those ABs, tops among righty catchers against righty pitchers. Along with his average, almost all of his home runs and RBIs have come against righties. Realmuto did not make the All-Star team this season, which you can bet will serve as extra motivation for the young catcher once games start back up after the break.
Jonathan Lucroy, Milwaukee Brewers
Lucroy joins Ramos as members of the National League All-Star Team this season, which should come as no surprise considering the season Lucroy is having. Through the first half of the season, the 30-year old veteran is hitting .302 to go with 10 HRs and 40 RBIs. The .302 average might seem a little high, considering he has a career batting average of .284, but we have become used to seeing Lucroy hit above .300 as he has done this twice already in his career (2012 and 2014). The real success Lucroy has been having this season can be found in his stats against righties. The Milwaukee catcher is up there with Ramos and Realmuto as the only righty catchers hitting well-above .300 against right handed pitching. Lucroy is currently hitting .327 in 214 ABs against righties, with seven HRs and 30 RBIs, along with 14 of his 16 doubles and all three of his triples. While Lucroy might soon be traded, it's fair to expect similar production for the remainder of the season no matter what team he lands on.
Salvador Perez, Kansas City Royals
Perez has been one of the most consistent catchers in Major League Baseball since he entered the league in 2011. Well, this year is no different. Perez was named to his fourth straight All-Star game after hitting .269 with 12 HRs and 37 RBIs in the first half of the season. Behind the three catchers listed above, Perez has been the next best in most offensive categories, especially against right handed pitching. In his 217 ABs against righties, Perez's batting average increases to .276, while also hitting 9 of his 12 HRs and 32 of his 37 RBIs. In fact, the Kansas City catcher's 15 doubles currently leads all righty catchers against right handed pitching, and his two triples only trails Lucroy on the leaderboard. Even though is average is a little lower than what you would expect out of him, Perez is more than making up for it with his home runs, doubles, and RBIs. Come the end of the season, Perez will almost certainly be near the leaders among catchers in most offensive statistics.
Left Handed Catchers vs. Left Handed Pitching
While there are several right handed catchers having great seasons, the same cannot be said for left handed catchers. Brian McCann has the best stats against left handed pitching, and he's hitting only .220 with three HRs and eight RBIs in 50 ABs. Chris Herrmann has found some success, but with only 21 ABs against lefties this season, it's too small of a sample size to be confident in his .381 batting average against southpaws. If Herrmann can keep that type of production up, then he will certainly be the best lefty vs. lefty catcher option. Until then, avoid left handed catchers with lefty pitching match ups.
Get these players into your MLB daily fantasy lineups with RotoQL today.
Want to learn more about building an winning DFS strategy? Check out our RotoQL University videos with Saahil Sud fka Maxdalury.