DFS MLB 1st Quarter Breakdown: Righty vs. Righty & Lefty vs. Lefty Third Basemen
Posted on
June 29, 2016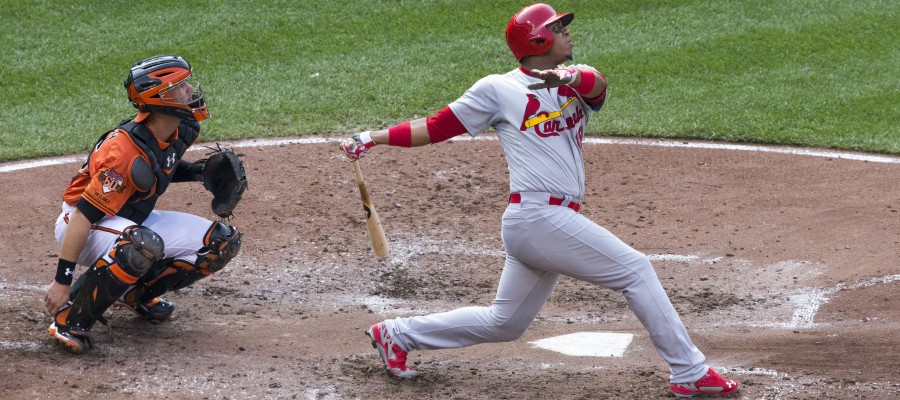 With daily fantasy baseball season finally here, DFS players wanting to use FanDuel and DraftKings MLB lineup optimizer everyday need quality information to get an edge. Knowing which players perform well against a lefty pitcher, or on a home stand, or in a pitcher's park, is critical to making quality daily fantasy decisions.
Here at the RotoQL blog we have made it our mission to prepare our users with a DFS MLB lineup advice for the start of the season and beyond.  
Consider These Third Basemen for MLB Lineups When Setting Your Lineups
With a quarter of the MLB season behind us, it's time to break down the best situational hitters for each position. Today we're going to explore the top right handed third basemen vs. right handed pitching and left handed third basemen vs. left handed pitching for the 2016 season.
Right Handed 3B vs. Right Handed Pitching
Nolan Arenado, Colorado Rockies
Arenado is having himself an unbelievable season. The third baseman is hitting .295 overall, with 21 HRs and 60 RBIs, and we're not even halfway through the season. Arenado has been crushing the ball all season, regardless of who's pitching. Not surprising, his numbers against right handed pitching have been off the charts. In 200 ABs, Arenado is batting .290, slightly below his overall batting average. However he makes up for the few lost points in his average with 16 of his HRs and 47 of his RBIs against righties, both of which are the most among all third basemen in Major League Baseball. Arenado has been a home run machine in 2016, and has shown no signs of his power diminishing anytime soon. As long as he can keep hitting the long ball, which should not be a problem considering he plays all of his home games at the hitter-friendly Coors Field, Arenado will continue to be one of the top players in baseball and a MVP candidate.
Nick Castellanos, Detroit Tigers
Unlike Arenado, Nick Castellanos and his dominant performance so far this season came out of nowhere. A career .266 hitter, Castellanos is batting .300 overall, with 13 HRs and 40 RBIs. In fact, his 13 HRs are only two shy of his career-high 15 HRs from last season. The biggest difference? Last year, Castellanos hit 15 HRs in 154 games. This year, he already has 13 HRs in only 69 games. The 24-year old is going to obliterate his career highs in essentially every offensive category. Castellanos is also completely dominating right handed pitching. In 194 ABs, he has a .335 batting average, .29 higher than the next highest right handed third baseman. In addition, Castellanos has also hit 8 HRs and 30 RBIs against righties, along with 14 doubles and one triple. In his third full season in the majors, Castellanos looks well on his way to his first All-Star Game appearance. With the amount of success he's having against right handed pitching, the sky is the limit for Castellanos this season.
Danny Valencia, Oakland Athletics
While he may not be on Oakland for much longer, Danny Valencia has looked great for the Athletics thus far. After putting up good numbers last season, Valencia has elevated his game to the next level in 2016, hitting .328 with 10 HRs and 27 RBIs. Even though his numbers against right handed pitching are lower than his overall numbers, they are still quite impressive. In 141 ABs against righties, Valencia is batting .298 (good for fourth highest average among right handed third basemen), to go with five HRs and 15 RBIs. Valencia has only played in 51 games this season, as opposed to Arenado and Castellanos who are both at 70 games, which is a reason for his lower HR and RBI numbers. And while there are other right handed third basemen with a lot more flash (guys like Kris Bryant, Josh Donaldson, Evan Longoria, etc), Valencia earned his spot on this list because of his great contact hitting. Expect Valencia to continue his success throughout this season, regardless of what team he's playing for.
Left Handed 3B vs. Left Handed Pitching
Matt Carpenter, St. Louis Cardinals
With Mike Moustakas out for the season, Carpenter is the only left handed third baseman with solid numbers against left handed pitching. Overall, the 30-year old is having a good season, batting .296 including 11 HRs and 45 RBIs while collecting 48 walks in only 66 games. In 74 ABs against lefties, Carpenter is batting .270 to go with two HRs and nine RBIs, along with 15 walks, seven doubles, and 12 runs scored. Carpenter is the leader among lefty third basemen in walks, runs scored, and hits against southpaws. These numbers aren't amazing, but they are certainly respectable. However if given the choice, you should try to avoid using any left handed third baseman if he's facing a lefty pitcher that day. There is a lot more talent to choose from among the right handed third basemen.
Get these players into your MLB daily fantasy lineups with RotoQL today.
Want to learn more about building an winning DFS strategy? Check out our RotoQL University videos with Saahil Sud fka Maxdalury.