DFS MLB 1st Half Breakdown: Righty vs Righty & Lefty vs. Lefty Outfielders
Posted on
July 11, 2016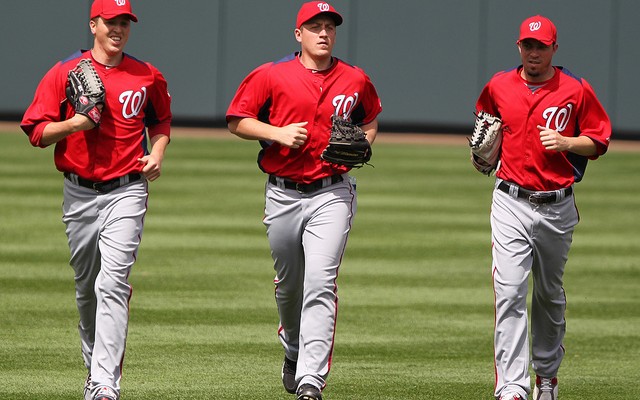 With daily fantasy baseball season finally here, DFS players wanting to use FanDuel and DraftKings MLB lineup optimizer everyday need quality information to get an edge. Knowing which players perform well against a lefty pitcher, or on a home stand, or in a pitcher's park, is critical to making quality daily fantasy decisions.
Here at the RotoQL blog we have made it our mission to prepare our users with a DFS MLB lineup advice for the start of the season and beyond.
Consider These Outfielders for MLB Lineups When Setting Your Lineups
With a quarter of the MLB season behind us, it's time to break down the best situational hitters for each position. Today we're going to explore the top right handed outfielders vs. right handed pitching and left handed outfielders vs. left handed pitching for the 2016 season.
Right Handed OF vs. Right Handed Pitching
Starling Marte, Pittsburgh Pirates
Marte has been absolutely fantastic in 2016. Through 73 games, Marte is hitting .331 with six HRs and 30 RBIs. Heading into this season, the Pittsburgh outfielder's career-best betting average was .291 in 2014, .40 points lower than his current average. With 92 hits already under his belt, Marte is also on pace to shatter his previous career-high hit total of 166 in 2015. While his overall numbers are great, his statistics against right handed pitching is even more eye-opening. In 214 ABs against righties, Marte is batting an astounding .355 to go with five HRs and 27 RBIs. The 27-year old is smacking the ball all over the field, racking up 76 hits, including 17 doubles and 4 triples. Marte has also been a headache for opposing pitchers while on base, amassing 17 stolen bases against righties. He may have a little less power than some of the others on this list, but Marte has been overall the best right handed hitting outfielder against righty pitching this season.
Mike Trout, Los Angeles Angels
Trout landing on this list should come as a surprise to no one. The 24-year old is one of the best, if not THE best, hitters in baseball. 79 games into the season, Trout is batting .323, including 17 HRs and 53 RBIs, not to mention 18 doubles and 56 runs scored. Trout is hitting the ball well against both righties and lefties, but his truly dominating numbers are against right handed pitching. In 220 ABs, Trout has a .332 batting average. He has also hit 14 of his 17 HRs, 15 of his 18 doubles, and 45 of his 53 RBIs against righties. Majority of his offensive stats have come against right handed pitching, despite having 71 ABs against lefties. In addition to all of these hits, Trout has also already earned 38 walks against righties. While the Angels may not be going anywhere in 2016, at least they have a very bright, shining star in Mike Trout.
Mark Trumbo, Baltimore Orioles
After a couple of disappointing seasons, Trumbo has resurrected his career in Baltimore. Through 77 games, the right fielder already has more HRs this season (23) than he did in 142 games in 2015 (22). While the power has always been there for Trumbo, he has never been the type of player to hit for contact as well (a career .254 hitter). Yet this season, the 30-year old is batting .282 with 87 hits, on pace to obliterate his previous career-high of 146 hits in 2012. Considering his low career batting average, it's even more impressive that Trumbo is hitting .307 in 231 ABs against right handed pitchers, to go with 14 HRs and 41 RBIs. Trumbo's success is a big season the Orioles find themselves with a multiple-game lead in the AL East as we approach the All-Star break. Looking as comfortable in Baltimore as we've ever seen him, look for Trumbo to continue his offensive production for the remainder of the season.
Mookie Betts, Boston Red Sox
Betts has been considered one of the top up-and-coming outfielders in baseball for a few years now. While he put up great numbers last year in his first full season in Major League Baseball, they don't level up to the production we're seeing out of Betts in 2016. The right fielder is hitting .287 with 16 HRs and 54 RBIs in 78 games of this season, with 18 doubles and 99 hits. Betts is also taking full advantage of his at-bats against right handed pitching. In 287 ABs against righties, the 23-year old has a .303 average to go with 13 HRs, 17 doubles and 46 RBIs. Those are amazing numbers for anyone, let alone a guy in his second season in Major League Baseball. If Betts can keep these numbers up, the Red Sox will have a shot at catching up to Baltimore and winning the American League East.
Left Handed OF vs. Left Handed Pitching
John Jay, San Diego Padres
While Jay is certainly not a power threat, he has done a good job of getting on base so far in 2016. Jay's overall numbers (.296 batting average, 2 HRs and 23 RBIs) are nothing to get too excited about. However it is his numbers against lefties that remind you that Jay has had three seasons batting .300+ in his career. Through 81 ABs against left handed pitching, Jay is batting .346, with 28 of his hits and nine of his RBIs. Once again, these numbers aren't jaw-dropping, but with few options to choose from among left handed outfielders, Jay found himself at the top of the list.
Kole Calhoun, Los Angeles Angels
Calhoun is off to a solid start in 2016, with a batting average of .288 to go along with 10 HRs and 42 RBIs. While those stats are no where near those of his fellow Angels' outfielder Mike Trout, they are still respectable. Calhoun's strengths are apparent when looking at his numbers against left handed pitching. In only 79 ABs against lefties this season, Calhoun is hitting .304 (.36 higher than his career batting average) and has hit four HRs and 15 of his RBIs. With fewer lefty pitchers in baseball, there are obviously less opportunities for ABs against southpaws than there are against righties. However in the ABs he's had against lefties, Calhoun has looked very strong.
Michael Saunders, Toronto Blue Jays
Saunders has been a very pleasant surprise for the Blue Jays. A career .238 hitter, Saunders never looked comfortable during his six years in Seattle. Now in his second year with Toronto, the 29-year old looks to have finally found a home. Saunders is batting .293 overall including 15 HRs, 20 doubles,  and 34 RBIs. All of these numbers are on pace to shatter his previous career-highs. It's no surprise then that his numbers against left handed pitching are also solid. In 78 ABs against lefties, Saunders has six HRs, six doubles, 9 RBIs, and a .295 batting average. Whether it's a righty or a lefty on the mound, Saunders has been able to handle both all season long, and will attempt to continue this through the second half of the season.
Get these players into your MLB daily fantasy lineups with RotoQL today.
Want to learn more about building an winning DFS strategy? Check out our RotoQL University videos with Saahil Sud fka Maxdalury.