FanDuel Weekly Guide: Top Stack, Great Bargains, and More
Posted on
April 22, 2016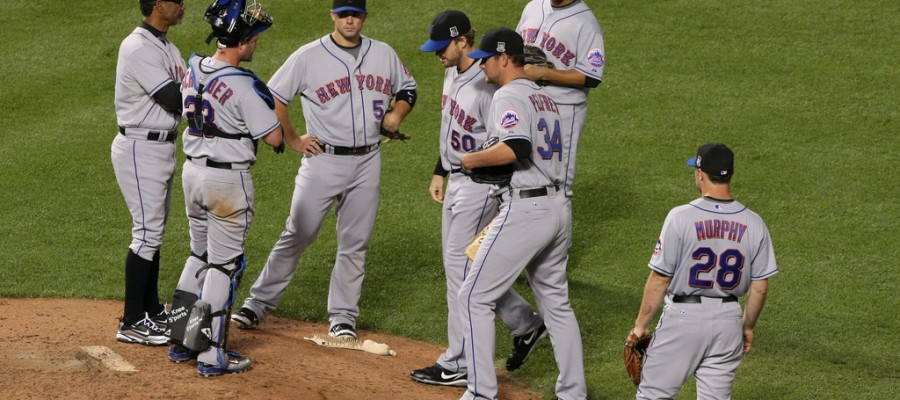 With daily fantasy baseball season finally here, DFS players wanting to use FanDuel and DraftKings MLB lineup optimizer everyday need quality information to get an edge. Knowing which players perform well against a lefty pitcher, or on a home stand, or in a pitcher's park, is critical to making quality daily fantasy decisions.
Here at the RotoQL blog we have made it our mission to prepare our users with a DFS MLB lineup advice for the start of the season and beyond.  
Best MLB Team to Stack  and Best Hitting and Pitching Values – April 22
With the 2016 MLB season finally here, it's time to start preparing your lineups for Daily Fantasy Baseball. Today we're going to look at the top stack option, along with some great hitting and pitching match ups, and finally the crazy stat of the week.
Top Stacking Option: New York Mets
LF Michael Conforto, CF Yoenis Cespedes, 2B Neil Walker
No team has been hitting the long ball more than the New York Mets have over their last five games. In the first five games of their nine-game road trip that started in Cleveland on April 15th, the Mets have hit 17 home runs (a club record). At the start of the road trip, Conforto was moved into the third spot in the batting order. Since then, the left fielder has gone 7 for 18 with two HRs, three doubles and five RBIs. While he has fewer than 70 games in the majors under his belt, Conforto is already looking like a seasoned vet at the plate. Following Conforto in the lineup is the slugger of the team, Yoenis Cespedes. Cespedes has been on fire over the road trip, hitting 7 for 19 with three HRs, two doubles, one triple, and nine RBIs. The center fielder has been crushing almost every pitcher he has faced, and should not be left out of your daily fantasy lineup. The last player that should be part of your stack is second basemen Neil Walker.  Walker has shown amazing power so far in 2016. The newly-aquired Met is tied for third in all of Major League Baseball with six HRs. Of those six HRs, five of them have come on this road trip. Walker seems incredibly comfortable on both sides of the plate. If he can get his batting average up a bit, he could end up being one of this year's biggest breakout stars.
Not only are these Mets players on fire, but this upcoming weekend they travel to Atlanta to take on the lowly Braves. While their winning streak this week might give them some extra confidence, their three starting pitchers against New York (Bud Norris, Jhoulys Chacin, and Williams Perez) are nothing for hitters to be worried about. The Mets' batters should continue their hot play through the weekend.
Great Hitting Bargain: RF Ryan Braun, Milwaukee Brewers
Braun has looked great to start the season, hitting .319 with three HRs and 10 RBIs. The reason he has one of the top hitting match ups this weekend is because of the pitching he is facing this weekend. The Brewers will welcome the Philadelphia Phillies to Milwaukee Friday to begin a three-game series. The three starting pitchers for the Phillies (Aaron Nola, Charlie Morton, and Jerad Eickoff) are all right handed pitchers. In his 32 ABs so far in 2016, Braun is hitting .375 with two HRs, two doubles, three walks, and eight RBIs. While it will be hard for Braun to keep his numbers in the high .300s against righties for the entire season, the start to his 2016 is very promising. Expect Braun to put together yet another strong year.
Great Pitching Bargain: RHP Jeff Samardzija, San Francisco Giants
Although he struggled mightily in 2015, Samardzija signed a massive five-year, $90 million deal with the Giants this past offseason. With the Giants, Samardzija does not have the pressure of being the team's ace, as San Francisco already has both Madison Bumgarner and Johnny Cueto. Through his first three starts, the righty has put up solid numbers, not surrendering more than three runs in any of those starts. However the main reason he's listed here is because of his matchup on Friday. The Giants will welcome the Miami Marlins to San Francisco this weekend. While the Marlins have been hitting for average this year, they have found it very hard to score runs in 2016 (Miami is ninth worst in all of baseball in runs scored). If there is one team that Samardzija can dominate to get himself going, it is the Marlins. Look for Samardzija to have his first great outing of the season this Friday.
Crazy Stat of the Week 
Throughout his career, Neil Walker has never hit more than three HRs from the right side of the plate in one season. In fact, heading into 2016, Walker only had six career home runs batting from the right side. Yet through the first 13 games of this season, Walker already has three home runs from the right side, tying his career high. The second baseman got rid of his toe-tap at the plate while batting righty, and it seems to be paying off big. Walker's six HRs ties him for third in all of Major League Baseball.
Get these players into your MLB daily fantasy lineups with RotoQL's MLB Lineup Optimizer today.
Want to learn more about building an winning DFS strategy? Learn RotoQL University videos with Saahil Sud fka Maxdalury.