DFS Coors Field Strategy for MLB Lineups
Posted on
July 21, 2016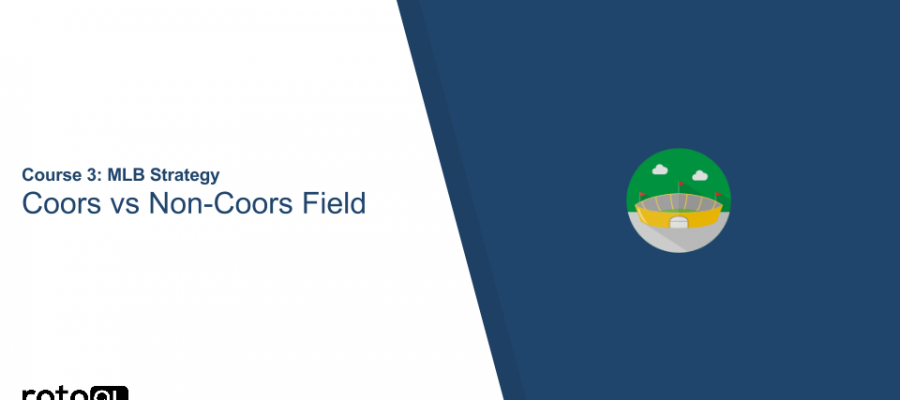 Here at the RotoQL blog we have made it our mission to prepare our users with a DFS MLB lineup advice for the start of the season and beyond.  
When setting your DFS MLB lineups, you want to take everything under consideration. If a team is playing against the league's best starting rotation, or in the most pitcher-friendly park, one would think to avoid using players on said team in your lineup. The opposite can be said if a certain team has a slight advantage over teams playing in other stadiums or cities.
Today we will discuss the home of the Colorado Rockies, Coors Field. Could adding hitters playing at Coors Field, while also avoiding pitchers set to play in Denver that day, help your lineup? We are going to take a look at an overview of the home of the Rockies, how playing at Coors Field affects ball travel, and the Coors Field strategy for MLB lineups.
Coors Field Overview
Coors Field stands at 5,200 feet above sea level, which is essentially one mile above sea level. Just to put it into perspective, the next highest ballpark is Phoenix's Chase Field, which stands at 1,100 feet above sea level, over 4,000 feet below Coors Field.
Due to the thinner air higher up, fly balls travel 9% farther at Coors than at sea level, which is around where most of the stadiums in Major League Baseball stand. The thin air doesn't just affect balls coming off the bat; it also affects pitching. Curveballs do not break as much as they would at sea level, which is a big disadvantage for many pitchers around the league. While fastballs do tend to travel a little faster at Coors Field, the main affect the air has on pitching is the negative affect on curveballs.
How Playing at Coors Field Affects Ball Travel
Let's say a ball is hit 400-feet at Yankee Stadium, where the park rests at sea level. Now we move to Turner Field, the home of the Atlanta Braves. If a ball is hit the same exact way at Turner Field as it was at Yankee Stadium, the ball will travel about 1-1.5% further due to the stadium standing at 1,050 feet above sea level. So that ball will travel around 405-410 feet.
At Coors Field, where the park is 5,200 feet above sea level, the same ball will travel around 9-10% further, and thus will be hit around 440 feet. This shows just how much Coors Field affects daily fantasy baseball.
Back in 2004, a 5K player playing at a stadium outside of Colorado is going to score around 9 points. At Coors Field, a 5K player will score a little more than 11 points. That is over a 20% increase for the same salary in just picking Coors Field players. While the difference between fantasy points scored at Coors Field vs. other stadiums has decreased, there is still about 10% more fantasy points for the same salary on average at Coors Field. This means that before setting your lineup each day, you really want to evaluate what's going on at Coors Field, and what players are set to play there.
There have been some recent changes to Coors Field that affects your DFS MLB lineups. Before the 2016 season, some things around the stadium were changed to try to lower the amount of home runs and runs being scored there. The left field wall was raised five feet, which admittedly was only a small portion of the wall. The bigger change was in right-center field, where the wall was raised about eight feet.
The raising of the wall in right-center has had an impact on the amount of home runs hit to that part of the stadium, causing less balls to leave the stadium. However, it has also increased the number of triples hit at Coors Field dramatically.
Using Coors Field Strategy For MLB Lineups
Now let's look at Coors Field strategy for MLB lineups. When it comes to pitchers, you're better off avoiding any Coors Field pitcher all together. DraftKings has made an effort this year to lower the salaries of pitchers playing in Denver, but you're not going to get the same fantasy production. Strikeouts are going to be a lot lower because of curveballs not breaking as much. Unless there's a very, very short slate of options, you'd be smart to stay away from a pitcher taking the mound at Coors Field.
The same cannot be said for hitters at Coors Field. Salaries for hitters playing in Denver will normally be about 10% higher, but their actual points will likely be way higher than 10%. The lower-priced Coors players are always going to be highly-owned. Most people always have two or three Coors Field players in their cash games. Many players will stack Coors Field players. You shouldn't fade Coors Field players completely in cash games. You may not look to Denver if you're looking for a stud pitcher, but in terms of hitters, that's always the best place for value. This truly helps to show how Coors Field affects daily fantasy baseball in a significant way.
Tournaments are a little bit more complicated. In tournaments, people are generally more aware of the Coors Field affect, so you will generally see the highest ownership percentages for the Rockies stacks or whoever they're playing at that time.
However there are some situations where it could benefit you to play Coors Field stacks. Usually if Coors Field puts up five runs the night before, people will be a little hesitant of rostering that many high-priced players again. In this situation, it may make sense to have a Coors stack that may be a little less owned than it should be (even though it will likely still be pretty highly owned). You have to also consider the exact opposite situation. If the night before there were 15 runs scored at Coors Field, people are going to want to recreate that. So given the matchup, it may make sense to avoid Coors Field players that night.
With daily fantasy baseball season finally here, DFS players wanting to use FanDuel and DraftKings MLB lineup optimizer everyday need quality information to get an edge. Knowing which players perform well against a lefty pitcher, or on a home stand, or in a pitcher's park, is critical to making quality daily fantasy decisions.
Get Coors Field players into your MLB daily fantasy lineups with RotoQL today.
Want to learn more about building an winning DFS strategy? Check out our RotoQL University videos with Saahil Sud fka Maxdalury.